Apparently, the very first step needs to be taken before enjoying amazing ADF Desktop Integration (ADFDI) features is installation of ADFDI plugin. It  enables desktop integration with MS Excel spreadsheets to manage data from web applications via Excel.
Probably the easiest way, which does not need any extra explanation, is just choose Tools -> Install ADF Desktop Integration in JDeveloper. And follow up further instructions. Afterwards ADFDI developer plugin will appear in Excel.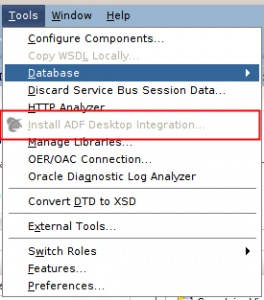 But in case you're not Windows user and your JDeveloper runs in Linux or Mac, you'll see disabled menu item I've mentioned earlier. Obviously another MS Windows enviroment is necessary to run Excel with ADFDI. And manual installation of ADFDI plugin is needed. Its not much more complicated, indeed. Need to copy plugin package to Windows machine from your local location and just run it:
%MW_HOME%/oracle_common/modules/oracle.adf.desktopintegration/adfdi-excel-addin-installer.exe
For more information please refer to Oracle documentation – Administering ADF Desktop Integration.
You might be also interested in:
ADF Version 12.2.1.0